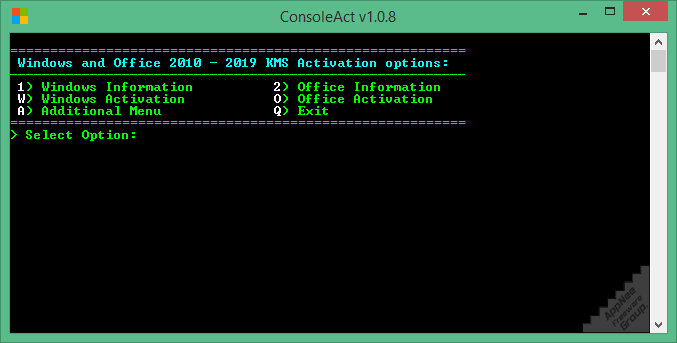 ConsoleAct is a relatively new KMS based Microsoft products universal activator made by Ratiborus from Russia. It can activate all the volume editions of Windows XP, Vista, 7, 8, 8.1, 10, Server 2008, 2008 R2, 2012, 2012 R2, and Office 2010/2013/2016/2019.
As a tiny console application for offline activating Microsoft Windows and Office products, ConsoleAct reminds me of Ratiborus' another two classic console activators for Windows & Office: KMSAuto Easy and KMS VL ALL. Their common advantages are: compact file size, runs very fast, minimalist user interface, efficient and automatic activation process, and most importantly – they always more reassure those nervous users along with their sensitive antivirus software.
Although ConsoleAct and KMSAuto Easy don't allow to view their source code as KMS VL ALL does, however, it is well known that Ratiborus' programs are almost always worthy of our trust. So, just enjoy another wonderful Windows/Office activation tool that he brought us! And as usual, share it with more guys with the same need, do not just leave it in some corner on your computer.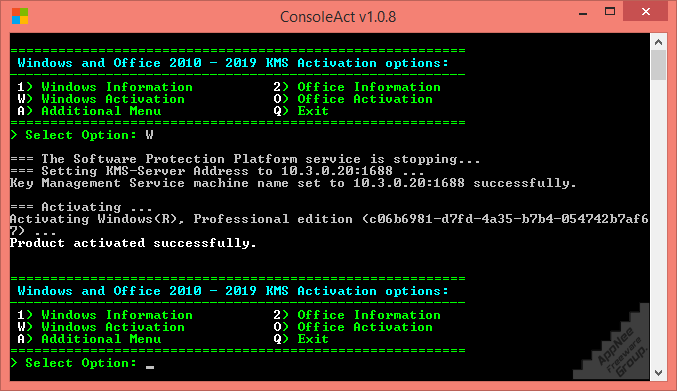 // Supported Products //
Volume editions only:
Windows XP, Windows Vista, 7, Windows 8, 8.1, 10, Server 2008, 2008 R2, 2012, 2012 R2
Office 2010/2013/2016/2019
// System Requirements //
This program does not require any version of Microsoft .NET Framework to work
// Additional Startup Parameters //
| | |
| --- | --- |
| Parameter | Description |
| /win=act | Run program in hidden mode, activate Windows and exit the program. |
| /ofs=act | Run program in hidden mode, activate Office and exit the program. |
| /wingvlk | Run program in hidden mode, install Windows Key and exit the program. |
| /ofsgvlk | Run program in hidden mode, install Office Key and exit the program. |
| /taskwin | Create reactivation task Windows |
| /taskofs | Create reactivation task Office |
| /ru | /en | The program will be launched on Russian (English) interface |
// Download URLs //
| | | |
| --- | --- | --- |
| Version | Download | Size |
| v1.0.3 | | 261 KB |
| v1.0.4 | | 263 KB |
| v1.0.5 | | 265 KB |
| v1.0.7 | | 508 KB |
| v1.0.8 | | 509 KB |
| v1.1.2 | | 1.16 MB |
| v1.2 | | 1.15 MB |
(No Homepage)